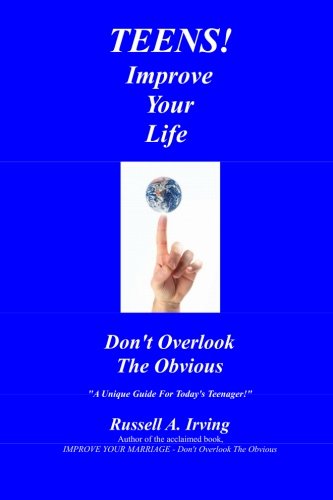 Major bookstores, and libraries are now able to order the book,
Teens! Improve Your Life -
Don't Overlook The Obvious !
If you do not see it on their shelves,
simply request that they stock it!
You can also order it directly from this site or from Amazon.com and other retailers!
And, visit www.TeensImproveYourLife.com

Douglas Parker

We often take them for granted: the US Postal Worker. Yet, they provide vital services for us, daily.
And in the instance of Douglas Parker, the vital service he once provided, was to save lives.
In August of 2003, this former firefighter and oil driller, then a California resident, was on his mail route. He smelled smoke and saw flames burst from bushes outside a home. A woman from the home told him that her brothers and pet were inside. The family escaped unharmed, while Mr. Parker took a garden hose and doused the fire while waiting for the fire department to arrive for 'the finishing touches'.

Anthony Zeigler

Just as 'quitting is not an option' is a great phrase to live by, so is 'retirement is not an option'.
Anthony Zeigler devoted 20 years of his life to the US Army and his country. But instead of retiring and taking things easy, Master Sergeant Zeigler, a former New Yorker, decided to become a ROTC instructor at the Worth County High School in Georgia.
He has brought discipline and more importantly, motivation to his students.
We offer a strong and proud salute to this fine 'gentleman and an officer'!

Annie Smith

Who says that race matters or that you should only donate an organ when dead or to a close friend or relative?
Certainly not Annie Smith, of Pennsylvania.
DyNata Mack, a 20-year-young black woman and waitress watched her mother die in 2001 of congenital kidney disease. DyNata had also suffered with this disease since she was 11 years old. After years of peritoneal dialysis and hemodialysis, things were grim. She needed a transplant soon if she was to live.
DyNata mentioned her condition and needs to a co-worker at the Eat 'n Park restaurant where she worked. Kris Smith, also 20, then relayed his co-worker's crisis to his mother who was a registered nurse at a facility where transplant patients go for post-surgery care.
Despite never having met her, Annie Smith knew that she had to at least see whether or not she could be a kidney donor match for Ms. Mack. And she was!
The surgery went well and now, Ms. Mack hopes to be able to resume her education and become a dialysis nurse.

Zell Kravinsky

Who says that wealthy people have no heart? Certainly not those who are familiar with Zell Kravinsky, multi-millionaire! But they might be correct if they said he was missing a kidney.
Zell recently donated one of his kidneys to a total stranger, because it was"the moral thing to do". Although he is caucasian, he asked that his kidney go to a poor African-American. His kidney was in fact given to a female at the Albert Einstein Medical Center.
Zell Kravinsky has also donated a large portion of his entire wealth. Hats off to you, sir! May you be an inspiration to others.

Chris Dudley
Basketball stars can in fact be great role models. Just take Chris Dudley, for example.
This Yale graduate has been giving back to those less fortunate than he, as well as to his sport's fans, for some time.
At 16, Chris was diagnosed with Type I Diabetes. And instead of pity, he used his energy to become one of the greatest basketball stars. But not only did this provide inspiration for others,, Chris Dudley donated $100,000 to Yale to create an endowment to help out their basketball program.
Chris received the J. Walter Kennedy Citizenship Award. In 1997, he received a USA Today award for being one of the 'Most Caring Athletes'. - He gave 50 homeless children a shopping 'spree' in order to have a great Christams. - He created 'Doin' Right With Dudley' that inspired young people to do community projects.
The Dudley Foundation was created to provide to provide education, advocacy, and support diabetes research.
Chris Dudley scores big time with us for all that he has given back to his fans and others!

Charles Ramsey
As I write this, I am overwhelmed with pride, joy, and tears. Along with a renewed faith in my fellow man
This humble, gentleman, Charles Ramsey, living in a working class neighborhood of Cleveland, OH, is responsible for rescuing 3 women who were kidnapped for approx. 10 years. (As well as the young daughter, born in captivity, to one of these women.)
Charles was walking when he saw and heard a woman screaming for someone to help her escape from a home. At first, Mr. Ramsey, thought that this woman might have been involved in a domestic violence situation. And that he could find himself in physical danger. But, he did the right thing! He went into action and helped the woman and a child break out of the house. He took them home, where the woman called 9-1-1.
It turns out that this woman and 2 others had been kidnapped and held hostage all of these years by men. These 'men', such as they are, are now under arrest.
Charles, we cannot thank you enough for leading by example! You are the true definition of a SPECIAL HERO!

Robert Graves, D.V.M., and Sherry Graves
Tragedy can strike any family. Especially health related tragedy. And, when it involves a child, parents go into high gear... Pulling out all stops in order to save their child.
Their young daughter had been diagnosed with leukemia. In order to help save her life, Robert & Sherry allowed her to receive a non-related blood donor, bone marrow transplant. Laura lived for another 1 and 1/2 years.
Their experience brought Robert and Sherry to create a national registry of folks willing to be bone marrow donors for others. A federal mandate helped turn this registry into the National Marrow Donor Program.
This led to the Be The Match Registry , which has millions of donors waiting to help others.
Over the years, even actors, such as those from the hit show NCIS have helped the cause. I hope that you will join the cause. Please! Lives depend upon it. Literally!
Please visit Be The Match. Thank you!
Thank you, Robert and Sherry. Your efforts are a living tribute to Laura.

Temar Boggs
There is less to worry about the future now that we see the actions of 2 brave teens. Sadly I know the name of only 1 of them.
In Lancaster, PA, a 5-year-young girl was kidnapped by a registered sex offender.
Police sent out dogs and officers. They even closed some streets.
2 teens, one of whom was Temar Boogs, beliueved that they saw the wanted car with the young girl inside of it. - They kept following the car as it tried to lose them. Eventually, the car stopped and the alleged kidnapper released the girl.
Her family members are so thankful, as are we, for the bravery of these young men.
(Note: Always exercise caution when in such a situation. Contact authorities or a responsible adult, if at all possible.)

Captain David Huff
Midwest City, OK. is not a typical location for scenes that one would probably see on a crime-based television show.
At a Walmart, a mother's 2 year old daughter was taken and held at knife-point by a man who was believed to be mentally ill.
9-11 was called and after negotiations failed, Captain David Huff took a dangerous, yet deemed necessary step. He 'lunged' at the assailant and killed him with his gun, saving this little girl's life.
Far too often, we take the bravery and skills of our law enforcement women and men for granted.
Kudos and thanks, Captain!

Boston Marathon Heroes
The horrendous bombings in Boston, on Patriot's Day, brought out the best in so many people.
Aside from doctors, nurses, police, and military personnel, 'Average Joes and Josephines' ran toward the sites of the bomb blasts, not away from them.
These Special Heroes gave more than immediate comfort and medical care. They offered a view of the 'best in people', in a sharp contrast to the just experienced 'worst in people'.

We salute all of these Special Heroes. If you ever meet one of them, please thank them.

Richard Taylor
Sometimes life presents us with a unique opportunity to save the life of another person. How we handle that situation will vary. And, while no one would likely have blamed Mr. Taylor for not doing what he did in saving a police officer's life (with the aid of an unknown, 2nd hero), there is a man who is very, very glad that Richard chose his course of action.
Mr. Taylor was going home after leaving work later than normal. he heard a crash take place behind him and he saw that an Infinity had struck a police cruiser. The Infinity's driver was dead. The policeman was alive, yet trapped in his vehicle. He warned Taylor to simply leave him to die, rather than risk his life, as the cruiser was on fire.
Richard and another man knew what they had to do. So, they gambled and won. They were able to extradite the officer from his vehicle. The officer was later treated for injuries, and survived.

Tim Tebow
Since when do we honor well-known 'celebrities'? When they show a sincere and credible effort to better the lives of others.
Tim Tebow, a homeschooled, superstar athlete is behind the Tim Tebow Foundation. When Tim was a student at the University of Florida, he an dfellow students created a student organization called, First and 15. The group raised money for multiple charities, including an orphanage and cancer center.
In 2010, after college, Tim created the Tim Tebow Foundation. Currently, there are 4 major initiatives: Timmy's Playrooms - The W15H Program - Uncle Dick's Orphanage - CURE International Orphanage.
It's one thing to reach the top in your field at a young age, as with Tim. It's another to give back to your fellow man (woman), before you reach the top of that career mountain.
So, kudos, Tim! And, please check out the foundation's website. get involved!

Julien Leitner
Teenagers 'rock'! And, Julien Leitner is not only on a mission to change the world $2 at a time!
This young teen was exposed to the world of charity, of giving to others, from a young age from his parents.
Julien is accomplished in both music (including 'rock' violin and guitar) and basketball.
Inspired by a 5th grade teacher who quoted Archimedes as saying, "Give me a lever long enough and a place to stand, and I can move the Earth."

With the help of his folks, the Archimedes Alliance was born. The concept is that it would be fairly easy for people to donate $2 for a charity. And with billions of people on the earth, $2 here, $2 there, would eventually become $2 million. And, when it did, 1 of 3 charities that donors voted for, would receive the funds.
Crazy? Too optimistic? Well, ask, Julien. He will inspire you! Check out 1 of his videos on our Video page.

Dr. Bud Doney
Homelessness is a huge problem in many countries. Especially during tough economic times.
But, how often do we consider the plight of the pets of the homeless? Perhaps the pet was a 'family member' before they lost their home? or, perhaps an abandoned pet provides need company and comfort to someone who otherwise feels alone in this world and unloved.
Regardless, keeping a pet healthy and in food is an expensive propositio, as many of us know.
Enter, Dr. Bud Doney (since passed on). In 1985, this veterinarian saw a need, in Seattle, WA. for a clinic that would tend to the needs of the pets belonging to the homeless. So, he set one up!
After his death, others have carried on his mission. In Seattle, there is now The Doney Memorial Pet Clinic. It is open the second and fourth Saturdays, at The Union Gospel Mission in Pioneer Square. The clinic is stafed by volunteers.
In addition to medical care, it offers a pet food bank. And donations of pet-related items are welcome.
Dr. Doney's concept has inspired at least 1 other clinic. This one is in CA. and was founded by Dr. Tina Owen. It is the HoPe Veterinary Center.
If YOU know of a veterinarian who might be interested in starting such a clinic, why not refer them to either of these clinics?
Remember: Most folks do not choose to be homeless. And neither do their pets!

Roger Armour
You might say that Roger Armour, a retired surgeon, was a real-life McGyver. Except that Mr. Armour is helping to save the vision of potentially millions of people in developing countries.
Mr. Armour, in his 70's, made a prototype of a special device that can identify various vision problems, using plastic and wood scrap pieces, a small magnifying glass, loolipop sticks, and more odds-and-end items. - This prtotype resulted in Mr. Armour winning a Medical Futures award for innovation.
Typical eye testing equipment costs many thousands of dollars. - The prototype cost approximately 5 English pounds and the cost of a camera. - Now, patented, the device should be made avaialble for a fraction of the cost of 'mainstream' devices.
Dr. Armour also invented, a now in production, inexpensive ophthalmoscope.
Whereas eye care and diagnosis is costly and out of reach for many people in the developing countries of the world, Roger's device will, hopefully, help to save many children's and adult's vision.
Now, this is something worth seeing!

Sarmad Tariq
The next time that you feel badly for yourself due to a 'routine' injury, or believe that you cannot make a difference in this world because of your disability, or feel like giving up after a rejection, you should remember Sarmad Tariq.
In the early 1990's, Mr. Tariq, then a teenager, dived into a canal, only to have misgauged the depth of it. He became instantly paralyzed. He endured multiple surgeries, and knew that he was destined to live as a quadraplegic. Yet, he also knew that he wanted to live as normal a life as possible and to be 'independent'.
After many college rejections (due to their inability to accommodate his special needs), Sarmad eventually received a Masters degree in Business Administartion. He learned driving and in his early 20's married a woman who was a neighbot of his, while growing up.
In 2004, he completed the Lahore Marathon. Then ran a marathon in New York from which he donated his sponsorship money to charity.
With financial and other help, Mr. Tariq has since established muliple centers for the treatment of paraplegics and quadraplegics.
Our kudos and prayesr are with Sarmad Tariq!

Adam Hill
Children have a difficult enough time growing up in this world without having to deal with the physical pain of and emotional cruelty inflicted by children because of limb and spinal deformities.

Enter Adam Hill, an Imperial College bioengineering PhD graduate.
Mr. Hill established Operation Frameworks in the summer of 2006. This incredible charity helps raise awareness, funds research, and provides services which help children with spinal and limb deformities in developing countries.
Please visit their website: OperationFrameworks.org

Nashira Baril
Unfortunately, despite what many Americans would like to believe in the 21st century, there are major discrepancies among ethnic groups' access to and quality of health care. There are also differences in how and when folks seek medical attention.
This is where the Nashira Baril comes in. This young woman works for the Boston Public Health Commission as Director of the REACH US Program. She has experience working in the Dominican Republic and Massachusetts.
In this program approximately 8,000 women and family members have received access to health care and health-related education.
Ms. Baril has amazing community leadership and outreach skills, along with management ones.
Too few folks with such abilities get involved on a full-time basis.
Hats-off to her!
May she be an inspiration to others!

William Short
Most 15 year old boys simply dream of dates, sports, video games, and the like.
Well, a 15-year old boy named Willaim Short, from Marystown in Canada had a dream of doing something special to help others. He already had a music business. But he knew that he wanted to give something back to the world. And he loved children.
Thus, the Short Circuit Dream Fund was established. - It's goal is to help terminally ill children to have their wishes come true. - Certainly similar organizations exist. But, are they enough to meet the needs of these soon-to-be-angels?

Alexis Goggins

It's not only adults who display heroism in the face of danger.
Alexis Goggins of Detroit showed that life is sometimes 'topsy-turvy'. - While 7 years young, this adorable girl, who had a stroke as an infant and who had epilepsy, found her mother's life in grave danger due to an out-of-control, ex-boyfriend. He was poised to shoot Ms. Goggins, when Alexis threw herself in front of her. Six bullets struck, Alexis. 2 hit her mother.
Her mother recovered. The ex-boyfriend was arrested. But Alexis suffered serious injuries. Fortunately, she survived, although she did lose an eye. Now, fitted with a prosthetic one, she learning to cope once again with health issues.Hopefully, William's dream catches on, with others following suit and helping to prove that their generation is one that we can be proud of.

Gary Frye
Sometimes, a hero is one who gives his best under strenuous conditions and fails. But it is in the trying that the hero's bravery and perserverence and grace show.
In January of 2004, Senior Airman Gary Frye, a reservist, was driving with his brother, at night when they saw a car on its roof. The Ford Escort station wagon apparently skidded on a downward part of the street and rolled 2 times. Gilbert Pina, 18, the driver was thrown from the car and pinned under it.
Airman Frye, a former paramedic, began CPR on the bleeding teenager, after Gary's brother and another man lifeted the car for Gary to get the teen out to safety. For what seemed like an eternity to those watching, but was 15 minutes, Airman Frye tried to resucitate the young man. But Gilbert died.

Weeks later, the Mr. Pina's family asked to meet with Gary. When they did, they thanked him.
San Antonio, Texas, Mayor Edward Garza gave Airman Frye a 2004 Crossroads Award.
NOTE: Earlier this week, a 17 year old, fine young man, 'L.J.' Salavatore, a friend of ours died in a car crash, when a strange car purposely drove in front of his and slammed on their brakes. L.J. swerved to avoid a crash and instead, his car flipped multiple times. - Our thoughts and prayers are with all teens who die such a senseless and untimely death.


John Wells

State employees, far too often, take heat for the few who slack off. Well, John Wells, a Caltrans, CA., maintenance worker not only showed how dedicated a state worker can be, but how heroic one can be.
In January, 2004, John was working when he noticed a home on fire. He quickly learned that there were small children in the home. 4 children who were watching television, unaware of the fire. A fifth child was upstairs, trying to put out the fire that he started while playing with a lighter.
John got the children to his truck and then contacted help. Fortunately, a fire unit had been in the area and was able to respond quickly.
John received a letter of appreciation from Governor Schwarzenegger.

J. Gordon Cooney, Jr. and Michael L. Banks

Crime fighting duos usually conjur images of Batman and Robin or Holmes and Watson. Not 2 partners of a multi-million, highly respected law firm.
Yet, these 2 men proved themselves to be incredible defenders of true justice with 15 years of pro bono legal work that resulted in the freeing of an innocent man, John Thompson.
Thompson knew that he did not kill New Orleans businessman, Ray Liuzza in 1984. But he was found guilty of murder based upon eyewitness testimony and not much else. - In 1988, Cooney and Banks, associates at the time, wanted to try a death penalty case. They initially believed that Thompson was probably guilty, but that he did not deserve to die. Eventually, they found evidence of prosecutor and judicial conduct that should not have happened. Weeks before he was to die, a detective found that recovered blood from the crime scene which could prove his innocence was withheld from the defense at the original trial. It also seemed that a witness against Thompson was in fact the murderer. Unfortunately, that man was shot to death during a crime. Another witness who had left the area out of fear, returned to testify that the murderer that she saw did not fit Thompson's description.

Cooney and Banks spent over 1 and 1/2 million dollars in defense of this man, on a pro bono (free of charge) basis. Many lawyers and staff from their law firm joined the efforts to free Mr. Thompson. And he was eventually freed.
How often do we say that justice is blind or that the wealthy and powerful care little for the average man's plight? - Well, in this case, we tip our hats to Mr. Cooney and Mr. Banks, both, true, Special Heroes.

Sam Boyden
Especially now with gas prices making our wallets hurt, we should perhaps focus on what is not hurting us: some defective tires. And we have Sam Boyden to thank fo rthat.
Most of us have heard of the famous Firestone tire problem, where approximately 6 1/2/ million ATX and Wilderness tires were recalled. - What you might not know is that Sam was largely responsible for seeing that this happened.
Mr. Boyden was an employee at State Farm Insurance where he was a researcher. He noticed a pattern of accidents involving Firestone ATX tires on Ford Explorers. It was high. He contacted the National Highway Safety Administration. But nothing happened. A car buff, himself, Sam knew that this problem was unusual and alarming. He continued pressing the NHSA and eventually the matter was investigated. Sam even testified before Congress.
But is he a hero? Not if you ask him. But if you ask those whose lives are the better and safer for it, the answer is a resounding, 'Yes'.

3 Doors Down
Who among the over 30-group, at least, has not at least once thought of rock and roll musicians as a bunch of 'druggies' obsessed with sex, money, and most of all, their own pleasures?
Well, Brad Arnold, Chris Henderson, and Matt Roberst, of 3 Doors Down have just re-proved the fallacy of the above for at least many/most of the rock and rollers.
On May 17, 2004, they announced plans to start a charity called the Better Life Foundation, whose goals will be to help provide the basics of some place to live, food, and medical care to children in need. They have alraedy donated approximately $90,000 to existing charities. They plan to donate a portion of ticket sales from their next album's road tour, to the Better Life Foundation.
So when they come to an area near you, why not support their efforts?

Mike Gorman

We often speak of police officers and firefighters being willing 'to risk life and limb' for others. Nowhere is this more ironic or true than of Mike Gorman, a 30-something with quite an ambition to help others, while dismissing his own problems.
Mike was born with a limb problem that resulted in a transtibial amputation and a prosthesis.
But that was not going to prevent him from fulfilling his dream of helping others. At 15, he became involved with the Middlesex County volunteer fire department and by 17, he was an EMT.
At 18 he tried to become a firefighter, but his artificial limb prevented him from becoming one.
Not one to 'lie down' and take things easy, Mike decided to become a tractor trailer driver. But his artificial limb, again seemed to be against him. Mike fought for his right to drive and proved that he could do so, safely. So, he drove 'big rigs' for a while.
After years as a police dispatcher, Mr. Gorman began work at Kean University where he was eventually allowed to apply for the police department. Overcoming more medical problems, Mike graduated 4th in his class of 35 cadets.
He works on campus at Kean University. Along the way, Mike has saved people's lives, and delivered babies. He is also, still a paramedic. And, above all else, a true inspiration.

Deanna Micheli

America's abundance or even over-abundance is obvious to many of and the world. Yet, we tend to think of it in terms of only food or consumer products. But we overlook the abundance of medical supplies that we have and take for granted, which is not available in many parts of the world.
Deanna Micheli, while a nurse at the Fargo's Merit Care Hospital, realized that surplus items such as gloves, catheters, and bandages were being disposed of, regularly. She also realized that many around the world needed these items to save lives and 'just' treat the injured.
With the help of other medical professionals, Deanna created HERO, approximately 6 years ago. It has provided almost 20 tons of medical supplies that would have been disposed of, to mostly medical missions, worldwide. With volunteers for staff, the efforts have been remarkable. The teamwork, incredible.
But what about needs in the USA? HERO helps some local efforts, as well.
And this year, HERO will move to a large facility, thanks to the generosity of a lumberyard.
Perhaps we can all learn to conserve or donate our excesses to others, rather than dispose of them, needlessly.

Dr. Guillermo de Venecia


'I can see clearly now..' are words from a popular song. They are also words, many, many people can say thanks to the incredible dedication and donations of an opthamologist who saw a need that others were willing to ingnore, and he filled it!
A University of Wisconsin Hospital opthamologist for decades, Dr. de Venecia, since 1979, spent vacations performing free cataract surgery in the Philippines. He found the cause more than worthwhile, especially knowing that without his services, many would become blind.
In 2000, he helped create a clinic near Manila, where in less than 6 months, over 800 surgeries were performed. He was named the 2000 SMS Physician Citizen of the Year by the State Medical Society of Wisconsin.
Now retired, Dr. de Venecia is not one to rest on his laurels. Over 70, he and his wife, a nurse spend months in the Philippines. He donated his eye clinic to the Tzu Chi Foundation headquartered in Asia.
Thank you, Dr. de Venecia for giving the gift of sight to so many. May others see the value of your efforts and choose to replicate them.

Randy Marsman

Builders are usually strong people. But Randy Marsman, a builder, also had a strong will and a strong sense of values.
July 22, 2002, He was driving in Michigan when he saw a catastrophe in the making. Duane Ely's pickup truck was hit from behind and sent off the road to the side. There, the truck burst into flames that were spreading on the ground nearby due to gasoline leakage.
Ely was trapped in the truck. Marsman broke the windshield and attempted to pull Ely out to safety, but was unable to do so. Even with another passerby's help they could not free Ely. So, Randy went partway into the truck's cab and freed Ely sufficiently, that he and another man could pull Ely through the windshield area. The flames quickly hit the cab area.
Luckily Randy suffered only minor injuries. Ely had some neck and back injuries, but had his life.

Kathy Vavrick-O'Brien

Imagine surviving SURVIVOR MARQUESAS long enough to walk away with $80,000. Now imagine that you are a real estate agent who could just relax a bit now that the show is over and spend some quality time with your son. Now, imagine that as a strong-willed woman, you decide to help other women.
Kathy has established the REAL FOUNDATION. It is designed to help build confidence and self-esteem in women who lack both. Her foundation will give money to nonprofit organizations to provide services to women in need.
Thanks for showing other women that you can be strong, nurturing, and giving, Ms. Vavrick-O'Brien!

Dave Foreman

Action movies. The stuff that many of us are drawn to. We see actors play heroes, in the midst of explosions at sea and elsewhere. But nothing can truly prepare you for the real thing, which is what Coast Guard rescuer, Dave Foreman discovered in March 2004.
Near Virgina, a tanker with Filipino workers exploded! Ethanol seemed everywhere. And that is where Dave stepped-in. Rather, he flew in with a rescue helicopter. The workers were covered in oil and very slippery to hold onto. But Mr. Foreman and others with him kept at it. 3 people died, 18 others were missing. And Mr. Foreman himself was hospitalized for oil fume inhalation.
The next time you see Stallone or another action hero in the movies or tv, remember that everyday, real-life heroes do this work without being paid millions of dollars and without production crews or stunt people.

James Smit

They say that you should 'take the plunge' when you find something that you want to do.
That's what James Smit, a Berkley Township policeman of many years did 10 years ago. He helps run a yearly Polar Bear Plunge event to raise money for New Jersey's Special Olympics.
Last year, the group had almost 3,000 particpants who were willing to plunge into icy cold water, raising money by signing up at least $1,000 each in pledges. James has raised more than $500,00 and hopes to break the $1 million mark within the next 8 years.
Although James has a niece with Downs Syndrome, the event has a broader appeal for him. He knows the impact that the Special Olympics has on the lives of the participants and their families and friends.
Mr. Smit goes to to both the Summer and Winter games, when he can.
Hats-off to this public servant who continues serving others in his free time. (By the way, his wife, Joanne, helps with the events as well, allowing for some very special time together.)

Mike O'Callaghan

Public service is a too-often used phrase. One too-often used to describe, self-serving folks who are seeking self-promotion. Not so, in the instance of Mike O'Callaghan, former Governor of Neveda.
Speak of humble beginnings, Mike was raised on a Minnesota farm before moving to Wisconsin where his mother was a teacher in a one-room school. At 16, he joined the US Marines. He worked in a factory. He was awarded the Silver Star for heroism during the Korean War where he was an Army soldier. He was also given a Purple Heart. In fact, Mike lost his lower left leg as a result of war injuries. He then became a teacher, inspiring many. Eventually, Mr. O'Callaghan became the director of his state's health and welfare dept. He was a regional director for the US Office of Emergency Preparedness.
Mr. O'Callaghan became Nevada's governor. He fought for the rights of those often ignored. He visited hospitals and other amputees to give messages of hope and inspiration.
Mr. O'Callaghan passed away on March 5, 2004, but his legacy lives on.
May others pick up the mantle of public service.

Maurice Ashley

Role models come in all sizes, races, and nationalities. Take for instane, Maurice Ashley. Born in Jamaica in 1966, he moved with his family to Brooklyn, NY at 12.
Despite losing badly his first game against a friend, Maurice used that great resource, 'the library' to get books on chess. He devoured the info.
Yet, he was still unable to make his high school chess team. But with additional studying and practice, Maurice became a National Master within years. In 1993, he became an International Master.
Finally, in 1999, Mr. Ashley became a Grand Master and the first black man to achieve this goal.
Maurice created the Harlem Chess Center in a Police Athletic League building. He knew that chess not only stimulated minds, but also trained them. He knew chess builds confidence, skills, and discipline. He also knew that kids would find it to be an exciting alternative to regular sports. And the kids, who have gone there in droves, have found it to be all of the above. Plus, their team, despite being in a tough area, has proven itself superior to school teams where much more money and privilege have been the norm.
He has created training materials for other chess players and been a commentator for some of the world's best-known chess matches.
Truly a bright man who can serve as a great inspiration for blacks, others, immigrants, young people, and more.


Dean Chapman
There are blind heroes in literature, but nothing beats real life heroes. Just ask Tess Gray, an Australian dance teacher.

Tess had been swimming at Mollymook Beach when she ran into distress. She was not close to shore and in great danger of drowning. Luckily for her, Dean was nearby.
Dean is legally blind with approx. 10% of his vision and is also hearing impaired. Yet, he is active in sports, including being a volunteer Surf Life Saver. He also volunteers at the Noah's Ark Centre, helping disabled childre.
Dean helped bring Tess to the shore's safety, but then took off. Luckily, a newspaper helped bring Dean together with Tess and her family.

Song Gyeong-tae

Often, one who cannot see, sees the most.
Song GHyeong-tae, now in his 40's, became blind after a grenade exploded, while he was in the army. He has a masters degree in social welfare and has received a number of awards, including the 2000 Presidential Award for his accomplishments, since his disability.
But not one to rest on his laurels, in the summer of 2002, Song began a cross-country walk from Mokpo to Panmunjom, accompanied by his seeing-eye dog, Chanmi.
His walk was to raise recognition for senior gukga yugongja, an elderly person who had been recognized for service to the state. However, over 100,00 of these fine folks were living in poverty or close to it. During his journey, Song would participate in charity events.

Catherine Pisacane

How much is a smile worth? To a child, at least, everything. And to Catherine Pisacane, spreading smiles, to those in desperate need of one, is a mission worth pursuing.
In November 2003, Catherine read of 3 brothers who were starved by their N.J. adoptive parents. She read that an officer who helped to save the boys, gave one of them a stuffed animal to hold. And how much that little animal meant to that abused child.
Thus, was born 'Project Smile'. It now operates in states throughout New England. A case in point is that all patrol members of the RI State Police will have a stuffed animal with them.
'Project Smile' collects new and good condition stuffed animals during drives. These animals are then given to police departments for the officers to provide to needy children.
What sort of children need these precious gifts? Sick and injured ones. Ones who are crime victims, crime witnesses, and accident victims. They are those who lost a loved one or who are experiencing a tragedy of another sort.
Bottom-line, there are many needy children who are benefiting from Ms. Pisacane's love of children.
She also shows us that one person can make a difference. Are you one of those people who will rise to the occasion?

Joshua Silver
What if people did not require purchasing new glasses everytime that they needed a new prescription? And, what if they did not even need to have an optician test them for a new prescription?
Well, thanks to a professor named Joshua Silver the reality is that potentially millions of impoverished people throughout the world can own eyeglasses which they can 'self-tune'. - Decades ago, Mr. Silver wondered if such a thing was possible. Now, he has come up with a working device that fulfills this mission.
These large plastic glasses have clear sacs that are water-filled. On either side of the earpieces, the user attaches syringes, which they then use to manipulate the amount of fluid in each lens. When the wearer has achieved the best vision, they twist a screw and remove the syringe. Voila! They have, in essence, a new prescription.
Kudos to Joshua Silver whose vision of a world with many more 'sighted people' is well on it's way to becoming a reality!

Alicia Sorohan
If someone says that you 'fight like an old lady', you can be proud! Thanks to Alicia Sorohan, a grandmother from Brisbane, Australia.
Alicia was camping with others by Cape York. She woke up, early morning, to hear a man screaming.
Although she is 60 years old, Ms. Sorohan left her tent, to help Andrew Kerr. Mr. Kerr was with his wife and child, when this 770 pound crocoodile, went into his tent and proceeded to drag Mr. Kerr out and toward the water.
Alicia jumped onto the crocodile's back in an attempt to save Mr. Kerr, who had already sustained injuries. Unfortunately, the crocodile bit her and the fight caused Alicia to suffer other injuries. Luckily, another camper had a gun and was able to shoot the giant reptile.
Both Ms. Sorohan and Mr. Kerr were rushed by air to a hospital, where they were treated.


Bill Anderson

Lots of us 'spin our wheels', but none for such a great cause, perhaps, than Bill Anderson, who is in his prime of life at 78.
Bill served his country, the U.S.A. and the world, when he served during World War II as a paratrooper. Again, during the Korean War, Mr. Anderson served his nation and others. Bill still is concerned with others. This time, those who are hungry and homeless. Having grown up during the Depression, he knows what hunger and poverty is about.
Bill has earned attention for bicycling from Canada to Mexico.
Now, Bill is cycling from the San Diego, CA. across the country to Jacksonville Beach, FL. His journey will hopefully do more than set a record for the oldest person to bike across the country. Bill wants to raise lots of money for the Crossroads Mission in Yuma. Services for the homeless are the targeted beneficiaries of Bill's adventure.
Join us in following Bill's journey, by logging on to: www.crossroadsmission.org
Also, why not donate to this great adventure and cause?

Peter Terbush

It is often in a crisis that a Special Hero displays extraordinary heroism. Such was the case in June of 1999 when Peter Turbush saved the life of his friend, Kerry Pyle.
These two men and others were at Yosemite National Park. Peter had been rock climbing for most of his life. At 22, and a college student, he was climbing with friends and holding Pyle's rope, as Pyle descended. Suddenly there was a lot of noise and rocks began to fall. Actually, they were huge boulders.
Peter could have let go of the rope attached to Pyle, but he would not. Peter died of head injuries.

Angel Flight America

What do you get when you mix over 4,000 pilots with those in need of medical assistance? Angel Flight America.
Over 4,000 Special Heroes who happen to be pilots, donate their time to help sick patients reach necessary medical care that would otherwise be literally 'out-of-reach' for them. Patients are those requiring treatment vital to their living but who do not have the financial or other resources to reach that all important medical treatment.
There are 6 chapters of Angel Flight America with the oldest one being Angel Flight West.
Not only do pilots donate their time and planes, but some of the major airlines now provide free air transportation for patients.
We tend to take for granted being close to medical facilities, perhaps, but these pilots and their associates do not.
While we cannot list each of these Special Heroes by name, we can certainly include them in our daily prayers.

Libby and Brad Birky
Imagine not having enough to eat. Or swallowing your pride, going to a soup kitchen, only to face a meal consisting of food you are allergic to, or strongly dislike, or is plain unhealthy. Or, simply the act of going to a soup kitchen, having to humble oneself.
Well, Libby and Brad Birky, a young couple, opened an incredible eatery called the SAME CAFE, in Denver, CO, in the fall of 2006.
The SAME CAFE offers healthy, fresh, gourmet, organic food with a diverse menu. (Think squash soup and great sandwiches.)
One unique thing here is that there are no prices on the menu. Patrons leave as muchg or as little as they wish to or can. So some might leave twice what they would pay normally, while those who cannot afford the standard fare for the meal will apy whatever they can.
Another unique feature of the SAME CAFE is that folks can volunteer to help out at the eatery, in order to pay for their food. Imagine the sense of self-worth that a struggling minimum wage earner or homeless person feels when they can pay their fair share, in the manner in which they are able. - Food served with a side of dignity!
The SAME CAFE will hopefully serve as a role model for others, throughout the country. ( www.soallmayeat.org)
It is amazing what can be done with some creativity and a sense of humanity! Thank you, Brad and Libby Birky!

John Melia
Who says that nothing good happens when people watch the evening news? There are many thankful veterans and their families who would beg to differ with that thought. Folks who are garteful because John melia and some friends took action upon seeing a news broadcast.
John, veterans, and others, who saw this particular broadcast focusing the problems faced by wounded soldiers returning from both Afghanistan and Iraq, decided to do something meaningful for these brave men and women.
So they created the Wounded Warrior Project . They provide backpacks containing basic, vital care and comfort items such as clothing, toiletries, calling card, CD player, and playing cards. Items not normally available to them and all designed to make their hospital stay more comfortable. They are provided to severely wounded service members who are sent to military trauma centers. - They also offer a smaller version of these backpacks. These go directly to Afghanistan and Iraq in order to offer a sense of immediate 'comfort' while a wounded soldier is being sent to an American military trauma unit.

Whether or not you support the war, please support the welfare of our brave men and women who are serving. And, who suffer, often great physical and emotional wounds. Show them and John Melia, just what Americans (and others around the globe) are truly made of!

HEROES
If YOU know of someone who is a Special Hero, please click on the Nominate A Hero link to your left.
Write-ups to 6,000 words are accepted..


IF YOU KNOW OF SOMEONE WHO WOULD ENJOY OUR WEBSITE,
PLEASE EMAIL THEM OUR LINK / WEB ADDRESS. Thanks!

Chyanne Ojageer
Courage comes in many forms. So do self-sacrifices. Well, Chyanne's mother had been diagnosed with stage 4 lymphoma. During years of coping with this terrible condition, Chyanne was orn.
Her mother, Ojageer, was from Trinidad and eventually needed a bone marrow transplant but there did not seem to be any available ethnic matches. This is when Chyanne offered to be a donor and was a match!
Now, Chyanne is organizing bone marrow drives in order to expand the number of ethnic minority potential donors.
Chyanne's bravery is an example for us, all.

Anival Angulo
How easy it is to judge others because of their race, religion, or employment. And, when you look at someone who is homeless, it is so easy to judge them. To blame them. To dismiss them.
Well, Mr. Angulo will hopefully show you how wrong that thinking can be.
As he did many nights in Las Vegas, Anival was walking and saw smoke. He heard children screaming from inside a building that was obviously on fire. He trie dto open the apartment door but t was locked. He somehow broke open the door and saved a 3 year old and a baby.
Las Vegas Fire and Rescue is proud to thank this tatooed, 36 year old, homeless man for saving these children.
So perhaps the next time that you see a homeless person you might have pity for their plight in life and not judge them harshly, or at all.
(By the way, if someone is capable of helping Mr.Angulo get back on his feet with a safe and stable place to call home and a job, it would be an incredible act of kindness.)

Caleb Bass
Proof once again that age does not determine when a true hero emerges. Such is the case with 13 years young, Caleb Bass.
When a car crash left his mother and younger sister badly injured, Caleb pulled his mom, Brandi, out of a car. Then his badly bleeding sister, Kira. But, she was bleeding so much from her injured leg that Caleb knew that he had to do something. So, Caleb removed his shirt and wrapped it around his young sister's leg. This saved her, according to rescuers.
We're proud of you, Caleb! Keep doing the right thing and being an inspiration to other teens!

Las Vegas Heroes
On Sunday, October 1, 2017, something incredibly tragic took place in Las Vegas, Nevada: A man chose to take the lives of many innocent concert goers. Dozens of people died. Over 500 were injured.
Yet, in the midst of ths real-life 'nightmare', there were very many heroes. Men and women who helped strangers escape the gunfire. People who stayed with the dying to comfort them and not let them die alone. Women and men prayed. They applied first aid to anyone who was in need of help. During the aftermath, hundreds of people waited in lines for many hours in order to donate much needed blood. Clergy from many religions prayed together.
A lesson learned from this tragic event is that there are people who will 'rise to the occasion' when it is necessary. They will bring forth the bravery and goodness that exists in us.
May we pray for these heroes, those who perished, and those who are still in need of medical care.

Angela McQueen
Far too often, we learn of yet another school shooting. Most times, it is a student or former student who is the one taking the lives of others.
And, yet, often, there is a brave student, teacher, or other individual who risks their own life in an attempt to stop the the shooter from taking more lives.
Angela McQueen, a teacher, took down a 16 year-young gunman at an Illinois high school. She saved many lives that day.
We do not recommend her course of action as it was extremely isky in may ways. But we cannot dismiss the extreme heroism that she showed.

Shanta Jordan
Split-second decisions. They might not happen often. At least not when it involves a life-or-death decision. What would the average person do?
well, we know what Shanta Jordan did when faced with such a decision, in June 2017, in Bridgeport, Connecticut.
Shanta saw a car speeding towards pedestrians, including a young boy. She jumped in front of the moving auto, pushing the youngster out of the way. Had she not done so, police believe that he would have died.
As it was, both suffered serious injuries, but lived!
Thank you, Ms. Jordan! You are truly, a Special Heroine!

Matthew Howard, Sr. and Leeann Winchell
Good catch!!
No, I don't refere to catching a ball. I'm talking about saving a falling girl!
Let's go back a bit. Mr. Howard was leaving the Six Flags Great Escape Amusement Park in New York. He heard someone cry out for help. He saw a teenage girl dangling from a ride. She was approx. 25 feet off of the ground at that point. Her younger brother was stll in the ride's seat, terrified.
He and Leeann, his young adult daughter ran to where others stood under the girl. Matthew yelled for her to let go, promising to catch her. Well, the girl did release her grip on the ride. She landed with Leeann and her dad bearing most of the girl's weight as she landed in their arms. The force of the fall took both of the rescuers down to the ground, but fortunately, no one actually suffered serious injuries.
Yes, there are strangers who simply cannot let harm befall another person. - Thank you, Leeann and Mathew!

Morris Irving, My Dad
My Dad passed, far too many years ago, now.
He was the most gentle, kind, humble, and loving man whom I have ever known.
I would like to honor his memory with 2 examples. neither one of which he had ever told us. We learned of them from an old newspaper clipping and a letter from World War II.
When my Dad and Mom were living near the base where he was stationed, he walked one day and saw a house on fire. There was a woman screaming and crying, hysterically. My Dad was told that the woman had children still in the home but that it was far too dangerous even for the firefighters to attempt to rescue them. My Dad proceeded to rush into the burning home and saved the children. People wanted to know who he was, but he quickly took off from the area.
Eventually, a reporter, who only knew that Dad was in the military, eventually learned his identity. After calling my Dad a 'hero', he told the reporter that he was not a hero and had "only done what anyone would have done". And, he wanted no praise for his actions.
During WWII, my Dad was stationed for a time in Panama.
He saw that a fellow soldier was ridiculed, severely, for praying each night at his bunkbed.
This greatly troubled him, so although this soldier was Christian and my Dad was Jewish, Dad would kneel down with this man in order to give him some solace and to remove some of the weight of the ridicule from his shoulders.

Frederick Irving
Fredrick Irving was one of 6 children, raised during the Depression. (The one of the 1920's.) He enlisted to serve America during World War II. He was captured and tortured. Eventually he found freedom again, choosing to serve the country he loved, again, this time as a diplomat. He became a U.S. Ambassador to Iceland.
Mr. Irving led an incredible life of service, often sacrificing greatly for the United States. He recently passed away in his 90's.
Learn more about this true 'Special Hero'. View this interview with him here.

Dr. Cynthia Ray
Doctors are a rare type of person. They study for many years. They rack up tremendous financial debt between collge and opening a practice. Sometimes they are on-call for patient needs, 24/7. Many of them could have made more money doing something else. But they love helping others.
Then you have a physician such as Dr. Cynthia Ray. She stopped to help at an accident scene where there was an overturned car, only to be struck by another vehicle. And, sadly... very sadly... to have made the 'ultimate sacrifice': Her life. Dr. Ray died shortly thereafter.
Dr. Ray was an accomplished pulmonologist. And, outside of medicine, she was a dogsledder and former ballerina. She had a beautiful singing voice. She loved her family and friends.
How does one properly thank such an incredible person. Perhaps, by being as incredible as you can be, in whatever area of life that you touch.
Rest in peace, Dr. Cyntia Ray.

Katelyn Ibarra
What makes someone not hesitate to help others who are in need of medical help, at the risk of personal injury? I don't have an answer. Yet, I do know of someone who might: Katelyn Ibarra of Steamboat Springs, CO.
This 16 year-old, mature-beyond-her-years, was with her folks when during a snowstorm, they came across an accident between a bus and a SUV. Katelyn, first aid kit in hand, dared to climb through a broken bus window. She provided first aid to injured bus passengers.

This humble heroine was deservedly given honors and will again, later this month (March 2017).
I guess heroes seldom stop to think about being afraid. They focus on what needs to be done while helping others who are in need.
Thank you, Katelyn, for providing us with a wonderful role model!

Kevin Avila
Reality is that far too many teenagers (female and male) find themselves caught up in the dark web of prostitution.
Reality is also that far too few adults bother to act when they see a vulnerable individual who is in danger or otherwise being victiomized.
Reality is that taxi drivers and Uber/Lyft drivers are not often thought of in a very positive light.
Kevin, a Uber driver, picked up 3 females, one of whom was a 16 year old who was dresseds in an extremely sexual manner. From the conversation, it appeared that one of the other women was the girl's pimp.
After dropping off the women at their destination, Mr. Avila called the police.
We need more people like Mr. Avila who are willing to 'get involved'.


Natalie Hampton
Admit it! Either you or someone close to you has been one of those students who did not seem to be wanted at any table in the school cafeteria. You weren't one of the 'cool kids'. Were bullied or otherwise shunned. You might have landed at a table with kids you didn't know but who let you sit with them, as long as you didn't try to speak with them. Or, you sat, feeling invisible, because the others simply ignored your presence there.
Well, Natalie Hampton could relate, all too well. 7th and 8th grade were tough for her, to say the least. Now, at 16, she is a high school junior with friends. Lunchmates are not a problem for her, any longer.
But Natalie is not one to simply 'move on' when life gets better for her. She still can remember what it felt like during those lonely lunchtimes. So, she creeated an app called Sit With Us. Students sign up to be 'Ambassadors'. Their role is to let others know when and where there is room at their lunch table for the wandering student who is in need of a friendly place to relax and eat.
You can reach out for more information by sending your email to NobodyEatsAlone@gmail.com .
Thank you, Natalie, for 'not forgetting', as you move on to what we hope is a wonderful life!

Preston Johnston
A Spindale, N.C., teenager, Preston Johnston did the incredibly selfless act of saving drowning children, while risking his own life.
Although, Preston succeeded in saving the 2 children who had fallen into a river, he himself drowned.
Please do not endager others when at a swimming pool, lake, or other body of water. And, remember the too-short a life that Preston had on this earth.

Texas Heroes: Dallas Police Officers And Others
We have made it a general policy that we would not honor police, firefighters, or soldiers, here, as their job requires them to be heroes, every shift that they work. The exception has been when they were offr-duty.
However, during the horror of the Dallas brutal slaying of multiple police officers and shooting of inncoent protesters, a number of police officers, risked their lives, to push or shield protesters out of harm's way, while risking their own lives.
For this exceptional bravery, we would like to honor these officers, and in fact the majority of officers who are decent, hard-working, 'Special Heroes'.
Please understand that we are well aware that there are racist, bigoted officers. But as with any group of individuals, there is 'good' and 'bad', among their members.

Christina Cook
Christina is a Columbia College - Fort Worth student studying business administration. So, what was she doing showing bravery at the Visitor Control Center?
Allow me to backtrack a bit. She volunteered at the visitor center. Three men approached with what she believed to be fake id's. But she was able to stall them while police were summoned by other staff.
Heroes are often those people who keep their senses alert at all times. And are not afraid of being proven wrong, if it means helping to ensure the safety of others.

HERO -- Human Exploitation Rescue Operative
What do courageous veterans do when back in America? Even those who are amputees or suffer from other war injuries?
Well, almost 100 of them have joined HERO -- Human Exploitation Rescue Operative .
The HERO Child Rescue Corps is a unique operation whereby wounded vets spend 1 year as an unpaid intern in any number of law enforcement agencies. Their mission? To help find those sexually exploiting children. They receive training in computer forensics.
The work is grueling, more so emotionally than physically. Yet, it can be incredibly rewarding when their efforts result in removing one more sexual predator from neighborhoods where they can prey on innocent children.
For more information on the Corps, visit http://www.herocorps.net/

Godfrey Cuotto
Often it is the simplest of actions that are the most special.
England's Godfrey Cuotto is a young adult who by simply showing a basic act of kindness to a stranger, ignited a 'viral reaction'.
It began when Geoffrey was taking a bus. A man with special needs reached out his hand to Geoffrey, who in turn held it. For the remainder of his bus ride. Why? Because he realized that the man needed some comforting, some reassurances, some 'whatever'.
The fact is that Geoffrey's action made a difference to the man. And, it resonated with not only others who were on the bus, but to countless others who saw a photo of the kindness, uploaded to facebook.
Heroes are not simply those who save a life in a literal sense. They include those who choose to do what others would not and who choose to make a difference in even one person's life.

Kahlen George
What's that saying? From out of the mouth of babes... '
Well, instead of some cute expression that she had picked up at school, 5 year old, Kahlen George warned her parents of smoke filling up in their home.
You see, her dad had not quite put out all of the fire and embers in their fireplace, before retiring to bed. But, Kahlen, heard the smoke detector go off, as the home filled with dangerous smoke.
Kahlen had learned what to do in such a situation from her school, the Seeds of Learning Early Childhood Center. She was taught to crawl on her stomach and find her parents or another adult who was in the home.
Kudos to Kahlen and to the school for their roles in helping to save a family.
(Note: Especially during this holiday and winter time, please remember to practice all fireplace safety rules.)

Klinker (and Bill Troup)
You've probably heard about dogs that can sniff out drugs or bombs. They certainly get the lion's share of canine publicity, it seems. Well, how about a dog that is helping to save special insects?
American foulbrood is a bacteria that is responsible for the loss of a slew of bees. Bees that provide us with honey. The bacteria usually kills off the bees before the beekeeper can realize that it is affecting the hives' occupants.
While you might not realize it, Maryland is home to many bee colonies. And that's where Klinker, the only certified foulbrood sniffing dog in the U.S., lives, along with his trainer, Bill Troup.
So, the next time that you eat a treat sweetened with honey, you might have a very unique dog to thank, along with the bees.

CASA Superhero Run Participants & Sponsors
Most people have never heard of CASA. Units of CASA exist in many parts of America. It is an organization devoted to acting as court advocates for children who have been abused or neglected. The majority of staff are volunteers who dedicate much more than their time and experise. They dedicate energy, passion, and compassion.
Well, CASA of Travis County, CASA of Williamson County & CASA of Central Texas decided that while 'normal children' need a hero, abused children need a superhero. Thus, this unique run was born. Check it out, here.
If you have legal expertise or even just great feelings of compassion for children, then check out your local CASA to determine whether or not, you can help to make a huge difference in a child's life.

Logan Campbell and James Brown
What special bond would there be among 2 step-brothers and a 90 year old woman? -- How about something that was a matter of Life-and-Death? Literally!
Logan and James of Cheraw, South Carolina, had known Pearl Mabry for much of their lives. She was like another grandmother to them. So, when they heard an explosion and saw flames coming from Pearl's home, they went in to rescue the sleeping woman. And, they did save her life.
Thank you, James and Logan, for reminding us that so many teenagers are great and caring people. Even willing to risk their lives for that of another person.

Tanishq Abraham
Most of us will never accomplish what this child of 11 has. yet, we can all strive to make the most of our own gifts. Because we all have gifts.
Tanishq is one of the Mensa 'genuises. Someone with an IQ in the very top of all people. And rather than sit bored for year after year in grades that were appropriate for his age, he took college courses, earning 3 separate college degrees!
Tanishq could probably have attended college anywhere in the country (or the world, for that matter).
We do not honor Tanishq for any of you to feel 'less than'. But, rather to point out that everyone has a gift or talent. It is up to us to choose working on developing and using it. Rather than than 'sitting back' and resting on our laurels.

Linda (last name withheld by woman) plus Hector Rodriguez
Sometimes it is what might appear to be a 'small thing' that is really huge. Especially when you are talking about saving a small, toddler from probably freezing to death.
On a recent January early morning, 2 year old, Yoleiny Salazar, was found wandering the streets of Brooklyn, N.Y. - It was in the teens, temperature-wise and snowing. Dangerous cold for someone so tiny and young. - Making matters worse, the child was wearing only socks. And, it was dark out!
A mother who wanted to only be identified by her first name, Linda, and her friend, Hector Rodriguez, were in a car when she saw the child. They went around the neighborhood trying to locate the child's family. They ended up calling 911.
The toddler was taken to a hospital where her father met up with her. (It seems that her aunt might have left a door in the apartment, unlocked.)
The kindness of strangers is alive and well! (And, who said that New Yorkers were cold people who did not want to get involved in situations, when needed.)

Leo Moody and Wade Shorey
When one thinks of loggers, images of Paul Bunyan might come to mind. Or, the man who epitomizes independence. However you imagine a logger to be, Leo Moody proved himself worthy of remembering!
On his way home from a day's work, Mr. Moody spotted an SUV, upside in water. And, he saw people trapped inside.
He acted quickly, callig 911. Then, he went into the freezing water in oerder to rescue an infant who was trapped and strapped into the back seat of the SUV. Fortunately, Mr. Moody carries a knife with him and was able to cut the seat belt.
The baby was then given CPR on the shore by another adult, Wade Shorey, who stopped to offer assistance.
Thank goodness that there are people in the world who are willing to help strangers in need.
At this Thanksgiving season, let us give thanks for these heroes.
'Nuff said.

Mystery Man
Who rushes into a burning building to rescue a stranger? Then takes off so that no one knows who he is?
Well, the other day, a man in a Dodgers hat did just that, in Fresno.
A passerby was able to video this amazing act.
It reminded me me of a similar action by my late father, Morris Irving (elsewhere on this site). And, there probably are other such heroes.
Who says that there are no 'Good People' left in the world?
Certainly not 73 year old, Robert Wells!

Rob Palmisano
Have you heard the saying: One man's junk is another man's treasure?
Well, Rob Palmisano certainly has! And, this teen decided to do something very special with an elementary school's treasure trove of surplus skates.
The story begins when Rob caught wind that the Upperco Elementary School had a shed containing unwanted skates. So, he decided to take and donate them to a Baltimore recreation center.
That action sparked an idea. Why not gather used and no longer wanted/needed sports equipment? Then donate them to rcereation centers that desperately need such items but simply cannot afford them?
Thus, was born, AllKidsShouldPlay.org - Over 5,000 items have already been donated. Sports can not only offer inner city children/teens exercise, teamswork, and assoret skillls, they can provide an alternative to getting in trouble.
Rob intends to try increasing the idea's reach. Contact the organization at: http://www.allkidsshouldplay.org/contact-us.html

Gabriele Ronchese
Who among us would know what to do when we witnessed a hit-and-run accident? Or, even 'only' it's aftermath?
Well, Gabriele certainly learned how he would react.
On the ride home from school with his mother driving, they saw a crowd of people in the road. There was girl, obviously in distress, in the street. Gabriele asked his mother to stop so that he could help. She was reluctant, but did stop.
Gabriele heard that a car had run over this girl. And kept going. - The girl had serious head and body injuries. Gabriele called for an ambulance multiple times. He asked for a blanket from someone in the crowd and covered the girl.
When the rescue crew arrived, they allowed Gabriele to help them get her ready and in the ambulance. He stayed a while at the hospital and visited to check on her.
Some of you might want to dispel his efforts as not all that important. But they were. And this South African, young man, should be proud of himself and be an inspiration to the rest of us.

Robert Renning
Imagine! You are driving and see a car in flames. What do you do? Keep on driving? Call 911? Or, do what Mr. Renning, a first sergeant in the Minnesota Air National Guard, did?
Robert was driving on a highway when he spotted fire under a car behind him. His girlfriend tried, to no avail, to get the driver's attention. Then the car simply pulled off the road, with spreading flames.
Robert pulled over. While his girlfriend called 911, he leapt into action, running to the burning SUV. He saw the driver frantically trying to kick open the passenger side door, but he could not do it. Robert found the door locked and there was heavy smoke in the car. Anytime, the vehicle could blow up! So, Robert tugged on the door frame, with a foot pressed against it for leverage. The door, miraculously bent in half! The glass broke. Mr. Renning pulled Mr. Johannes, the driver, out safely. Both men survived.
And, you thought that Superman only existed in the comic books!

Jon Meis
Many of us wonder about... Dare I say, daydream about taking down a burglar, rapist, homicidal maniac, if we were ever at the scene of a crime.
Well, Jon Meis will no longer need to wonder about that.
At Seattle Pacific University, a young man arrived with the intent to kill as many others as he could. He was armed to the hilt. He had already killed and wounded at the college, when Jon, a student who was working the security desk at the building chosen for this horror, went into action. He first used pepper spray on the armed man and then took him down. Others joined Jon in keeping the man in check, until police arrived.
Yes, Jon should never have to wonder again about what he would do in such a situation. And, many others are thankful and owe him their lives.
Note: We are not advising everyone to do what Jon did. That is your choice. Sometimes simply calling 911 or protecting yourself is the wisest thing to do.

Ashley Wineland
Who says that the 'Younger Generation' lacks patriotism?
Not anyone who knows Ashley Wineland, that's for certain!
Many teenagers dream of becoming a well-known signer. Some, the person who writes memorable songs. And, others envision themselves serving their country.
Well, young Ashley Wineland is a 'triple-threat'. She is a singer, song-writer, and has been helping veterans!
How, you ask? Well, Ashley wrote and recorded a song, Red, White, and Blue.
A musician and producer, Bryan Kuban, helped Ashley get the song produced and available on iTunes. Also a YouTube video.
So, has either gone anywhere special? (The song and video... ) Well, the song has sold in the many thousands and the video has been viewed approximately 50,000 times.
But, that's not the greatest success that Ashley has achieved. She has donated all of her profits from Red, White, and Blue to veterans' related charities/organizations. Now, that's what I call success!!
Check out the video, here, and don't forget to download the song from iTunes.
What are you waiting for?

Mateus Moore
It's easy for a boyfriend to say that they would give their life for the love of their life or a best, platonic friend. But, when the ultimate 'test' presented itself, how many people would actually follow through with that vow?
We now, sadly, know of one such young man: Mateus Moore.
Mateus, of Marysville, CA., was walking home from a store with Micayla Friend. They walked by railroad tracks. In hindsight, obviously not the best thing to do, but it was what was done.
Neither one of them noticed that a train was speeding their way until it was almost too late. Mateus pushed Micayla out of the way, putting himself right in the path of the mighty train.
Mateus died at the scene with many, severe injuries due to the impact. Micayla went to the hospital in serious condition, but alive.
Micayla's father praised the young man, saying that he was everything that he would have hoped for in a suitor for his daughter. And, many people attended a memorial service for Mateus, who loved school, music, and Micayla. He was admired and liked by many in the community.

Cameron Folsom
What does a Maine high schooler have to do with orphans on the other side of the world or substance abuse programs or even UNICEF?
Well, I can only say someone with an incredible heart and spirit.
Cameron Folsom broke records for most funds raised for UNICEF, when he was in the 6th grade.
Then, last year, he worked to raise awareness and funds for the Maine Alliance Addiction Recovery.
Now, Cameron is hoping to raise both awareness and funds for the Agape Children's Connection, an organization helping orphans in India. These orphans face hardships that most of us cannot even or wish to imagine.
Cameron will be using his stock car racing (yup!) to help raise awareness and funds.
By the way, did I say that Cameron is only 14 years old? Well, I have now!

Tyler Doohan
This is one of the most difficult true stories to share with you. It honors a 9 year-young boy, Tyler Doohan, who perished on January 20, 2014, as a result of selflessly risking his life to save others.
Tyler had asked and was granted permission from his mom to spend the Martin Luther King holiday at his grandfather's trailer, along with others.
In the early morning, a fire (now thought to be due to an electrical problem) began spreading through the trailer.
Tyler woke 6 others who all made it out of the burning home, safely. Tyler then rushed back in because his grandfather used a wheelcahir, and Tyler wanted to help him out safely. Likewise, his step great-grandfather was also still in the trailer.
Unfortunately, Tyler and these 2 men, all died inside the burning residence.
New York firefighters from various communities attended the funeral, as did some members of the basketball team (who were so moved by Tyler's bravery) from Silver Lake College in Wisconsin.
An important lesson, aside from Tyler's bravery and love for others, is that your residence should have working fire and smoke alarms. (The trailer did not have these and if they did, the outcome of this fire might have been very different.)
May you rest in peace, Tyler, knowing how many people love and respect you.
'Nuff said.

Aubrey Peters
It is with a heavy heart that we present the heroism of this young lady. But, more about that in a moment.
Aubrey was a seventh grader who ultimately saved the lives of 2 young girls.
Aubrey saw 2 girls, 4 and 7 years old, who had gone through ice at the Morse Reservoir located in Indiana. She ran to her grandparents for assistance, as well as the folks at 911. The grandparents rushed to the reservoir with Aubrey. One of the girls was able to get out of the water. But, ultimately, Aubrey decided that time was too short, if the 4 year old was to get out of the water, alive. She had to act, as soon as possible, if that girl were to survive the freezing water that could easily become her gravesite. Aubrey jumped in and broke some of the ice around the girl. She then was able to get her onto safe ground. With CPR by Aubrey's grandparents and paramedics, the child lived.
Now, fast forward to December 2013. Aubrey, now 16 years young, was shot dead at the home of a friend, by a 20 year old who was at the home.
Aubrey lived her short life 'better' than many of us, by risking her own for another. May she be a lasting inspiration for us, all.

Glen James
What would you do if you suddenly found yourself holding the bag (literally) that held a small fortune in cash, but you knew that it did not belong to you? - Oh, and what if Isaid that you were homeless?
Well, Glen James, a Boston resident... A homeless resident... found himself in ust that situation after he found a forgotten backpack at a strip mall. Inside was not only soeone's passport, but an incredible $40,000+ in both cash and traveler's checks.
Well, Glen did what most of us might say we would do, but many might do if they were in his financial situation: He turned it over to the Boston Police. As a result, Mr. James was honored with a ceremony and a plaque, in honor of his honesty.
But, the story does not end there! No! Not only was there a lot of media attention. And, some jo offers. But, Ethan Whittington of Virgina was so touched by what Gllen did, that he helped to raise an incredible $140,000+ , thanks to the generosity of folks, worldwide. And, in order to help ensure that the money was wisely spent, it was placed into a trust fund.
Glen James is truly an inspiration, for us all, with his honesty!

Terrific Trio (Okay, Fantastic Foursome):
Michael Schofield, Taylor Lewan, Russell Bellomy,
and '?'
It's amazing how a quiet afternoon being spent playing a video game can turn into a life-and-death-moment. Well, on a Sunday, while Russell was dealing wit injuries and playing a Super Mario Brothers game with teammates, there was a crash. Follwoed by a 'look-see'.
Well, that look revealed a car that had apparently crashed intoa hydrant, a pole, and ultimately a house's porch..
The 3 men, being guided by an unidentified, co-hero, were able to get the driver safely out of and away from his car, until officials arrived to take over.
Not only do these players have a story to tell others, so does the driver, and the heroic, unidentified 4th hero!

Christopher Alvelo
Far too many times, a hero loses their life, in the course of performing the action that will be their last, yet perhaps, remembered the most.
This was unfortunately the case of Christopher Alvelo.
Christopher was returning from a scout service project, with 3 of his friends and his step-father. Suddenly, his step-father passed out, while driving. Chris acted quickly attempting to stop the car. Unfortunately, it hit a parked bus.
The 3 friends who were in the back seat, along with Chris' step-dad, survived. However, Chris did not.
Had Christopher not acted so quickly, it is likely that the car would have smashed into trees or a fuel tank, causing a deadly explosion. Either way, he saved the lives of others.
Christopher, of Pennsylvania, had hoped to join the military, after completing high school. He was active in the Eagle Scouts program.
And, Christopher will remain in the hearts and minds of those whom he saved and those whom he inspired.

Dan Dewey
All that it often it takes to make a huge difference in a sick person's life, is for someone to show that they care.
Dan Dewey's dad was being treated for cancer, a decade or so ago, at St. Joseph Mercy Hospital, in Michigan.
One day, Dan asked if he could get anyone a cup of coffee. They did. And, Dan has not stopped getting coffee for cancer patients at the hospital.
How much has Mr. Dewey spent of his own money, on his personal 'charity'? He estimates approximately $10,000.
It is well worth noting that Dan is not wealthy, at least not in the traditional sense. Dan gets great satisfaction from seeing smiles on otherwise sick and depressed folks. And, if you somehow believe that it is the coffeee itself that makes the patients smile, think again! It's the fact that somone, a stranger, cares enough to give of their time, their money, and their hope.
That's priceless!
(Perhaps you or someone you know would like to emulate this, at a nearby hospital?)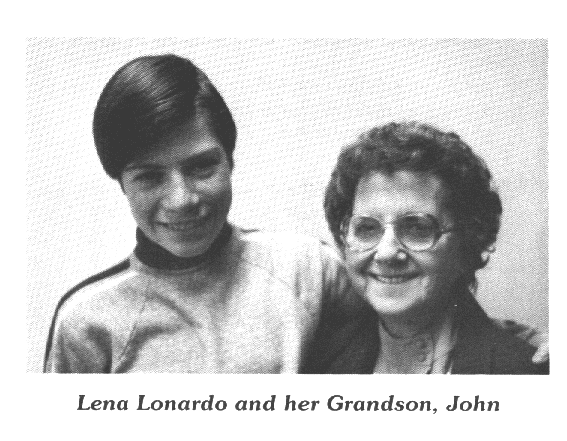 Lena Lonardo
The below piece was one of the first that appeared at this website.
Lena has now passed, and we believe that it is time to re-state her many,
unselfish acts on behalf of children (and their families).
In 1971, Lena Lonardo's grandson was born with a serious heart problem which necessitated treatment at Boston Hospital. The realization of having to send an infant to Boston for cardiac surgery was met with a great deal of stress by the entire family. Stress not only because of the obvious concern for the child's condition, but also because of the additional problem of having to leave other children behind during these visits.
When a pediatric cardiac surgery program was initiated at Rhode Island Hospital, Lena Lonardo decided to do something to support and increase public awareness of the new program. Because of her love for these children, Lena founded the RHODE ISLAND ASSOCIATION FOR CARDIAC CHILDREN.
THE RHODE ISLAND ASSOCIATION FOR CARDIAC CHILDREN was founded to respond to the growing needs for research, increased funding, and development in the area of cardiac surgery and treatment for the ever increasing number of Rhode Island children with cardiac problems. THE RHODE ISLAND ASSOCIATION FOR CARDIAC CHILDREN is an organization composed entirely of volunteers from all walks of life. Growing in numbers and scope through the years, the Association offers emotional support and direct financial assitance to cardiac children and their families. It sponsors family-oriented activities such as an annual Christmas party, trips to the circus and a softball tournament.
Lena is now in her 80's and as active as ever. She still heads the RIACC Board of Directors. She sets up at craft fairs to raise money. Lena still personally responds to the needs of cardiac children and their families.
Lena has shown what motivation, need, and perserverance can do!

Maria and Julia Myers
Pretty Purposeful conjurs up images of 'what' in your mind?
Well, allow me to give you a clue. What do you get when you take young teenage girls who want to make a difference in the lives of women who live on another continent (Africa)? And, who held a special one-day event that drew some fairly famous speakers?
Obstetric fistula is a childbirth injury impacting far too many women in Africa who were born into poverty and...
After viewing a film about this, Maria and Julia were moved to action. And, act, they did!
They have a legitimate charitable organization. Check it out at http://www.prettypurposeful.com/ and get involved, yourself!
Kudos, young ladies!

Leah Scully
Who would have that a teenage, future-nurse, would show such courage and quick wit, as to save the life of a stranger. Yet, that's what this 19 year young woman did in VT, this summer (2012).
On her way to a summer job, Leah spotted a hardhat by the road which she thought strange. She decided to check out the situation and discovered a man lying in shock from bee stings. She found an EpiPen in his truck's toolbox. She administered the medication which saved the man's life.
She took off after seeing that he was doing okay. Someone notified The Herald of Randolph which covered the story.
Our society is on the right track with teens such as Leah!

Christine and Joseph Aguiar
So many times, heroes take a personal burden or heartache and turn it into a blessing, for themselves or others.
Well, Christine and Joseph Aguiar have done just that. Blessed with a beautiful daughter, Sophie, who was diagnosed with autism.
While others might have felt the challenges ahead of them to be far too great, both parents embraced not only their child, but the road ahead.
With communication such a difficulty for Sophie, they were thrilled to observe how she took to 1st, an Apple iPod Touch and then to an iPad.
There are a growing number of apps specifically geared toward helping the autistic, in a number of areas.
We would agree that with a special needs child, among other children, there are so many demands on a family. Yet, Christine and Joseph decided to invest some of their limited time and other resources, to raising money with which to buy iPads to donate to families who could not afford them.
Their organization is called Sophie's Promise and can be found here.

Mike and Jean Morrisey
Turning one' spersonal heartache into a gift of life. How does one do this?
Well, why not ask Jean and Mike Morrisey, of Massachusetts.
They have been involved with anti-child abandonment laws. You know. The laws that allow teenage mothers, mothers who are here illegally, and mothers who simply feel that they cannot keep their newborn, to leave the babies, safely & anonymously at such sites as hospitals and police stations.
After the devastating loss of a child born, stillborn, this couple counseled others who found themselves in their position of an indescribable grief.
A state employee enlisted Jean and Mike's help with the burial of what was an obviousy abandoned child.
This couple then began Baby Safe Haven with the mission of helping to pass laws allowing mothers in need to safely leave their children with authorities. Without fearing criminal prosecution for trying to give their children an opportunity to thrive. Instead of the alternative which far too often involved murdering them or leaving them outside to possibly freeze or starve.
While there are people who disagree with the child abandonment laws that Baby Safe Haven supports, we believe that the laws save lives. And that should be the bottom-line here.

Paul Antonino
Who likes to have a meal at one of their favorite restaurants only to experience a fire. Not the heartburn type. But, a real one!
Well, 53 year old Paul Antonino had finished having his lunch at Oliveira's in East Boston when he went outside and smelled smoke. It came from a nearby building and Paul went over there. he broke down doors, having not received a response from those inside the building. He found 2 elderly residents and helped them leave the burning building, safely.
How many of us might have assumed that someone else would take care of reporting the fire? Or, that firefighters would ensure any residents' safety?
Kudos, Mr. Antonino!

Ben Stafford
Special Heroes exist everywhere in the world. Take, Ben Stafford, a jogger, living in England.
In July of 2011, he was doing his thing when he spotted a car hanging off of a cliff. A steep one at that!
Ben contacted rescue resources and went to see what he expected to be a vacant car. To his surprise, the driver, Lyn Venton, was still in the car. Injured.

Eventually, rescue came. But had it not been for the courage of Ben, this tale might have had a very different and tragic ending.

Alpha J. Buie
It can be easy to feel 'lost' when you are 1 of 10 children. Especially if you were black, living on a farm with parents who worked hard at 'non-professional' jobs.
Alpha, who was raised in Olive Branch, Mississippi, went on to graduate from Central Mississippi College with a degree in education. - In the late 1970's, she movd to San Francisco where she owned her income tax-related business and held multiple positions with the city/ county of San Francisco, including that of Director of the P.O.W.E.R. Program (Probation Officers Working to End Recidivism).
In the 1990's, Alpha became the Founder and Executive Director for the Inner City Adolescent Network (ICAN) located in the Bayview Hunter's Point District of San Francisco.
Alpha has received numerous awards for her work. - And is a role model, standing out from the crowd, especially for those who currently feel 'lost' in large families and doubt that they can make a difference in this world.

Dr. Sanduk Ruit
For most of us, the mention of Nepal conjures up images from novels and travelogues. It has an extremely high rate of poverty; among the highest, worldwide. It also has a special 'claim to fame': It is the birthplace of Dr. Sanduk Ruit.

So, what is so special about this doctor? - Well, let's begin with the fact that this man has helped many regain their eyesight. Even if they cannot afford typical payments or even atypical ones.

Thanks to his studying and working with Fred Hollows, Dr. Ruit became super-passionate about helping those in underdeveloped countries regain their vision. - Dr. Ruit created a process for sutureless cataract surgery. A milestone in opthamology.
Dr. Ruit also established, in 1994, the Tilganga Eye Centre. This center, amazingly, serves over 2,000 people per week!
Check out his Facebook page.

Amazing 'Super-Heroes'
How many of you remember the cover of the 1st Action Comics, depicting Superman, lifting a car? A feat for only a 'Super-Hero', correct? - Well, a group of extraordinarily brave folks in Utah did a similar feat and actually saved a young man, minutes away from probable death.
Brandon Wright, 21 years old, while on his motorcycle, tried to avoid a BMW. Unfortunately, he ended up under the car that was ablaze.
Fortunately, for Brandon, a team of onlookers did the 'improbable'. Derrick Hopper, Mike Johnson, Kade Lundgren, Anvar Suyundikov, and Savannah Guthrie, all helped to rescue him.
You can be a 'Super-Hero', too! Think, be careful, use your best judgement, and act when you see someone in danger. (Act responsibly!)

Anthony Robles
You didn't need to watch a sports channel to hear about this fine, young man.
You don't need to look far to see the tale of inspiration that Anthony is providing all of us, especially those who get characterized as 'disabled', 'handicapped'...
Born with only 1 leg, Mr. Robles began wrestling in the ninth grade. He attributed an increase in his maturity to the sport.
He won 2 high school state titles. And he became an All American wrestler in his seniot year at Arizona State.
Although he did not go on to win the overall championship, Mr. Robles is still proud of his accomplishments. And while he currently believes that he is done with wrestling, one never knows fo rcertain.
What we do know, is that this young man has become a role model for students around the world. Kudos, Mr. Robles!
We wish you success in whatever future endeavors that you choose to pursue.

50 Japanese Power Plant Workers
We've all heard of the horrors that Japan and it's people have been enduring: a powerful earthquake, a tsunami, and then nuclear power plants malfunctioning (and then some). There are very many tales of heroism, there, we can be certain.
Yet, what 1 story that appears to sum up them all, is the incredible heroism of 50 Japanese nuclear power plant workers who risk almost certain death/ severe health consequences by their actions to help save thousand, perhaps millions of people.
We not only owe a debt of thanks for the courage of these people. But we should offer up prayers for their lives and those of their loved ones.
'Nuff said.

Baleshwar Mishra
We've all seen a movie (or 2 or 3 or 20), where the hero saves the damsel-in-distress from falling to her death after being pushed or tripping off a moving train.
Well, a Mumbai youth, 19, Baleshwar Mishra, did just that for a stranger.
Roma Talreja fell off of a very crowded train. Fortunately, Baleshwar saw this from the train that he was riding. he jumped off in order to help the victim, Roma. However, when he was able to get her to a street, he had trouble getting any of the motorists to stop and aid them. A rickshaw driver did help them get to a hospital.
Roma and her finacee are so very thankful that Baleshwar was there and moved to help her.
We don't have to be a 'stuntperson' in order to help another in need. We simply should take action.

Violet and Allen Large
Imagine what you would do if you won the lottery. Not for $1 or $1,000. But, for $11.2 million!
Well, this down-to-earth, Canadian couple in their 70's won $11.2 million. And, since they did, months ago, they have given away most of it.
They gave some to family. But they gave so much of it to hospitals, charities,...
All this, even though Violet has cancer. But, as they said, they have one another. And, that's all they need. They have kept only a small amount at this point. And who knows what they will do with that money?
They have been married for over 30 years. They live in an old house and drive old vehicles.
Not only are Violet and Allen Large role models and heroes for what they gave to churches and so many chartiable organizations, but because they are role models for marriage. What it can be.
We thank you Mr. and Mrs. Large for what you have done and for what we know that you will do in the future!

Jimi Heselden
They say that we should live each day as if it were our last, as we never know when our time is up. -- Those who knew Jimi Heselden would say that he made the most of his life and gave so much back to others.
This Englishman who spent time as a miner eventually became a multi-millionaire by developing a special 'blast wall' that was used by the NATO, English, and American military. This helped to save lives.
Mr. Heselden donated over $35 million to assorted charities, including hospices.
Unfortunately, he died this year as a result of an accident while using a Segway. (He had bought the company that made Segways, the year before.)

Natalie Camacho Mendoza
We hear much about migrant workers and their children. And, the cycle of poverty and low education that supposedly cannot be broken. Well, Ms. Mendoza proves just how incorrect those assumptions can be, when someone is determined and works hard.
She is the daughter of migrant farm and railroadworkers, born in Idaho. One of her teachers had told her to forget college. She went on to finish both an undergraduate degree and a Juris Doctorate.
She began her legal career at the Idaho Legal Aid Services and later formed her own law firm.
She has done substantial volunteer work, especially on behalf of immigrants and Latinos. She is a popular motivational speaker and frequent talk show guest.
In 2010, she was awarded the Regence Latino Hero Award for her accomplishments and efforts on behalf of the Latino community.
Ms. Mendoza shows us not only what a great country with great opportunities, the United States is, but the importance of lending a helping hand to those coming up behind you.

Kevin Stephan
Despite some folks who condemn all teens and worry about the future generations, there are plenty of true stories regarding acts of heroism by teenagers. And, this one involving Kevin Stephan is one of those true tales.
Picture a 10 year old boy playing baseball when suddenly and accidentally he is struck in the chest by a bat. Hard enough that his heart stopped! As it turned out, a mother of another player, Penny Brown, who was a nurse, provided CPR and saved Kevin. Stranger still was the fact that Penny was originally scheduled to be at work at that time.
Now, fast forward 7 years. Kevin is an Eagle Scout and a volunteer firefighter in a small New York town. And at a restaurant in Depew, N.Y., a patron was choking... Gasping for breath! And who came to her rescue? None other than a now 17 year old named Kevin Stephan. The same Kevin Stephan who was brought back to life by a caring and quick thinking nurse.
Kevin provided the Heimlich maneuver. And saved Ms. Brown.
Kudos to them both!

Homeless of Kansas City
It's not often that we honor a group of people as opposed to specific individuals. Yet, the homeless who frequent the Kansas City Rescue Mission are role models for us all.
These men who seek spiritual, emotional, and physical comfort and support at the mission were touched deeply by the earthquake in Haiti. So, a number of them gave change or some of whatever small checks they receive from Social Security or other sources to help the Haitians. While $132.42 might seem insignificant, especially when one reads of fundraisers resulting in many thousands or millions of dollars, yet the change and more that these men gave was the equivalent of so much more money. And, showed that compassion and empathy knows no economic bounds.
http://www.youtube.com/watch?v=qG9vIy1191o
Thank you, David Strobl, Robert Florez, and others at the Kansas City Rescue Mission. May your life's circumstances improve!

Jimmy Bell
What can we learn from the homeless? What can they offer us? What about drug addicts?
All too often, we discard, on some level, those whose lives went astray for various reasons.
Well, Jimmy Bell of Ireland is an outstanding role model, at this point, for a countless number of homeless and drug addicts.
Jimmy was the only boy in a family with 5 children. He loved sports, but was something of a troublemaker in school. By 14, he was expelled and on his way to a problem life. He became involved with ecstasy, an dheroin. A supportive family, he was sent to treatment that did not have a lasting effect on him, at that time. He was involved in small crimes in order to pay for his habits. He abused alcohol.
Finally, in 2003 he returned to the to the Coolmine Therapeutic Community, where he had been years earlier. He spent a long 2 1/2 years in treatment there. But this time, he was ready to beat his addictions.
Meanwhile, he joined the Big Issues Street Soccer League, through the Coolmine Therapeutic Community. It was a natural fit for Jimmy, who had loved sports so much, when he was younger.
Mr. Bell not only participated in the Homeless World Cup in 2008, he won the Player of the Tournament and the Fair Play Awards. An outstanding set of accomplishments for anyone, let alone someone who spent so many years in a troubled life!
He has a young daughter, whom he adores, and is a coach for the Street League.
May others look at Jimmy's example and turn their life around, as well!

Azra Akhtar
Forget the Verizon famous line of 'Can you hear me, now?'. There are many people , worldwide, who are partially deaf. And, they can 'fall through the crack'. They might not be well-suited for a traditional hearing aid. They might not qualify, in school, for someone to take notes for them. And, in general, the possibility to fall behind their completely deaf or hearing fellow students is all too real.
Enter Azra Akhtar. Partially deaf, herself, she saw, firsthand, just how difficult it could be for someone like herself to excel, academically. Yet, she managed to attain a PhD at Roehampton University in England. - She also created a unique cd rom, called Signed Accountancy. This high tech item incorporates captions, audio, sign language, graphics, and more to help the partially deaf person to gain a greater grasp of subject matters. She also plans on having her own consulting business where she can create other aids for deaf children.
Azra's efforts speak volumes to all who can hear or who are deaf (regardless of the level).

Derek Creel
Who says that young people, especially teenagers are all so self-absorbed and care little for others? - Certainly not those who know Daniel Creel of Warrior City, Alabama
On March 27, 2009, Daniel, 19, and his fiancee went to relax and fish at Black Warrior River. But soon, Daniel saw that Timothy Sigafoose and his son were struggling for their lives, in the water. Their canoe had overturned. And, they had unfortunately not been wearing life jackets. Daniel dived in and was able to grab onto both father and son. Unfortunately, Daniel was not able to hold onto Mr. Sigafoose. Daniel was able to hold onto the boy thanks to a tree on the river's bank. They were eventually rescued and the father's body was found, days later.
Alabama Governor Bob Riley signed a resolution passed by the Alabama House and Senate. The resolution honored him for his heroism. Now, Daniel has decided to become a firefighter. He plans to get paramedic training at a community college. Meanwhile he is a volunteer firefighter with the Warrior Volunteer Fire Department.

Genevieve Frederick
How often have we seen homeless men and women with a pet by their side or in tow? And wondered why they share what meager food they can get with an animal, of all things? And, how can they insure that the animal eats?
Well, Genevieve Frederick of Carson City, NV has establsihed a program which not only answers the above questions, but which provides much needed help for these people and their pets.
In 2005, Genevieve published, Happy Tails - Hilariously Helpful Hints for Dog Owners . Dr. Gary Ailes was her co-author.
After a New York Vity visit because her book was being honored, she saw a homeless man with a dog by his side. That scene began her enquiry into why homeless keep pets. She learned that the animals provided companionship without judgement, protection, and even sometimes warmth.
But the question of how the homeless could keep their pets fed without sharing their own meager meals, resulted in the answer: FEEDING PETS OF THE HOMELESS.
Begun in 2007, with the help of Dr. Gary Ailes and Dr. Woody Allen, collections of pet food began. The food (collected from donations and special purchases) is given to soup kitchens and food banks which have agreed to distribute it. Some basic veterinary medical care has been added to the services provided.
Ms. Frederick's devotion and compassion, to those people and pets who others often ignore, is inspirational.
Please visit www.PetsOfHomeless.org for more information and to perhaps begin such work in your own community.
And click here for a much more detailed story of this organization's beginning.